REXANO Editorial, May 2011
Back in January 2011, we reported on the inaccuracies with the Discovery's WAR episode that was supposed to air on January 16th, 2011. WAR's promos showed the "rescue" of capuchin monkeys from a soon-to-be demolished roadside zoo and the "rescue" of 22 bears from suspected breeders.

When many in the industry exposed the truth, that the monkeys and bears were from a Texas sanctuary that closed its door because of corruption and mismanagement, and the animals were NOT from a roadside zoo or a private exotic animal breeder, Discovery cancelled the show at the last minute. Now, unbelievably, the same show is scheduled to air on May 8th, 2011.

This time, Discovery changed WAR's promo description of the bears' rescue from that of a private breeder to that of a "financially troubled sanctuary", yet continues to claim Lope rescued "a troop of capuchin monkeys from a soon-to-be-demolished roadside zoo", even though the truth is the monkeys came from the very same "financially troubled sanctuary" as the bears!

By law, there is no such thing as 'Exotic Animal Repossession". Even though animals are property under the US legal system, the only time an animal confiscation can occur is when law enforcement officers are directed to do so by a court order.

Scott Lope is not authorized to confiscate or repossess anyone's animals. For Discovery to pretend such a job exists, and the notion that Lope is 'the man' in what they call a 'reality' show, is a sure way to get lumped in with tabloid-style propaganda TV programming.

To this day, the untold story behind the WAR's supposed rescue of "six tigers in flimsy cages" was not discussed—until now.

Background: The Untold Story

In May 1998, a pet cougar named Ranger bit a 4-year old boy in Wylie, Texas (Collin County). Multiple newspapers reported that the owner of the pet cougar was Vicky Marshall (now Vicky Keahey). The boy was treated in the hospital for several puncture wounds. As required by law, cougar Roger was quarantined for 45-days at the local animal shelter as a precaution to ensure he didn't have rabies.

Animal control officers tried to impound Marshall's second pet cougar, Tahoe, as a precaution, since Tahoe and Roger had nose-to-nose contact, and by law, should have been quarantined for rabies as well. To prevent Tahoe being quarantined, Marshall took her pet cougar to her friends' USDA licensed, exotic animal facility in Leona, TX.

At the time, Collin County authorities allowed residents to keep exotic pets only if they had a Federal USDA permit. Vicky Marshall supposedly didn't have the required permit and was therefore in violation of County law. Marshall was given a misdemeanor citation for this violation.

When Marshall eventually secured her USDA exhibitor permit, so as to legally keep her pets, she was not only reunited with her pet cougars, but she also started buying pet tiger cubs as well. Marshall's first white tiger was Kiro, bought in September 1999, from the same friend in Leona, TX, that cared for her cougar during Marshall's time of need, as she sought the required USDA license. Back then, the going purchase rate for white tigers was around $10,000. So with just two pet cougars and at least one pet tiger cub, non-profit 'In-Sync Exotic Wildlife Rescue and Education Center' was born. It was around this time Vicky Marshall got married and became Vicky Keahey.

Recent Events

The Leona woman, who temporarily cared for Vicky's cougar Tahoe, was diagnosed with cancer, and her life-saving treatments took a toll on her physical health, making it difficult for her to care for her six big cats. In 2010, she voluntarily decided, for the health and well-being of her animals, to transfer her six tigers to Vicky Keahey's "In-Sync Exotics Wildlife Rescue and Education Center" in Wylie, Texas. The elderly woman's Federal USDA inspection reports show no animal welfare violations just prior to the re-homing of her beloved tigers. The following USDA inspection report clearly stated she was voluntarily giving up her cats—they were not confiscated.

This was supposed to be an easy, late summer transfer of her animals from one USDA facility to another. Since the women knew each other and their animals for over a decade, it was supposed to be a quick, humane, 'load up the tigers and drive away" situation. There was no rescue, no repossession, no confiscation, of these six tigers—just a simple, already pre-arranged, re-homing of the animals.

Prior to the actual "move date ", In-Sync was approached by the WAR filming crew. In exchange for filming the re-homing, In-Sync was allegedly offered several tens of thousands of dollars to be applied towards the care of the six tigers.

On Thursday, April 28th, 2011, In-Sync Exotics Wildlife Rescue and Educational Center's Facebook page responded to a query from one of its "friends" regarding Lope's participation in the tigers' so-called "rescue:"

"I'm afraid we can't comment on Scott Lope, but I do believe he is still a large part of the show. Unfortunately, had absolutely no input on the content of the show, we simply allowed them to come along and film our rescue of the 6 tigers, so we really don't know what the show will look like until we see it!"

In In-Sync's own words, they simply allowed Scott Lope to film the animals' trip from one USDA facility to another. Lope was NOT a rescuer; he was just "playing" one on TV.

The WAR Crew 'Rescue'

In 2010, the staged tiger 'reality' filming happened on a 100 degree hot and humid August day. The transfer of animals was supposed to begin around 7AM so as to protect the animals from the searing Texas heat. According to our sources, the WAR crew supposedly didn't show up until after 9AM, and did not conclude it's filming until the early evening hours, mostly spending time filming footage of Lope posing and talking to the camera for hours on end, while animals were stuck sedated in transport cages, and overheating.
Veterinarians were present, but still, one older tiger supposedly almost died from over sedation and heat exposure. Eventually, ice was brought in and applied to the animals. It is still not clear to us why two Sheriff Deputies were on the scene at taxpayers' expense. I guess we will have to wait and see for the explanation when the episode airs this week.

Conclusion

While we have only seen WAR's promo of the supposed "tiger" rescue, which was originally aired in January of this year and not the entire show; we can only hope the elderly dying woman and her facility will be portrayed in an ethical, honest and dignified manner on the soon-to-be aired WAR episode. Anything other than the truth could worsen her health condition, as well as cause a possible public relations and legal nightmare for the Discovery Channel.

Scott Lope is NOT an animal "repo man." He is just an "actor" and he did NOT "rescue" any of the tigers featured in the upcoming WAR episode. Plans to relocate the featured animals to new homes were made long before Lope showed up on the scene. Lope was simply along for the ride, nothing more, nothing less. To claim otherwise, not only discredits Lope and the Discovery Channel, but it also portrays real animal rescuers in a negative light. If Lope truly cared about the animals, he would have been honest about why the animals were re-homed from USDA facilities to other USDA-licensed facilities. We can only speculate that money and the promise of fame motivated Lope to grossly exaggerate the so-called animal "rescues" in the first place. I guess we will know for sure after viewing WAR's season premičre this week.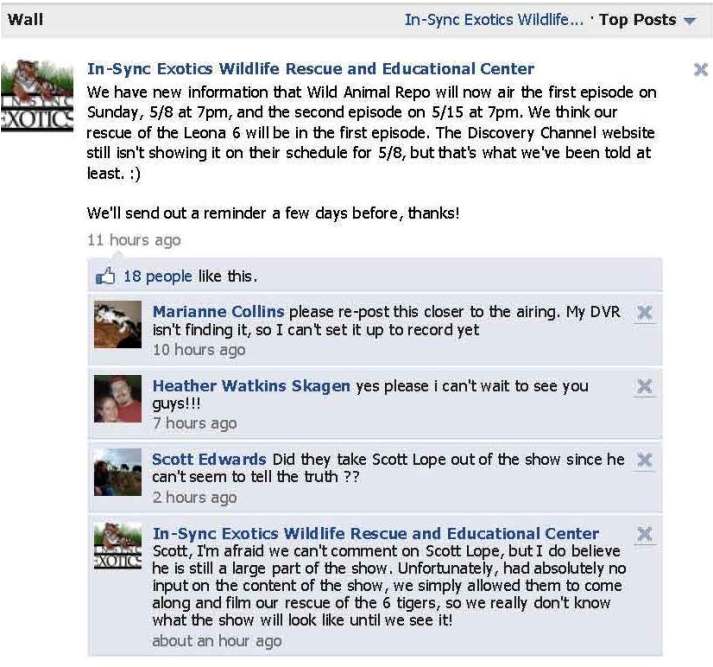 Copyright © REXANO 2011
Back to main WAO page
www.REXANO.org