OPERATION SAVE "BUBBA" - WAO White Tiger
UPDATE: It is with great sadness to report, Bubba, was euthanized on May 28, 2010 at the WAO. According to his veterinarian, Bubba's health took a turn for the worse and she believes he had cancer (lymphoma). Bubba will be missed by a lot of people for he touched the hearts of many-he was truly an inspiration to all who knew him. May God Bless Bubba in Heaven where he is now living in a perfect body without any ailments or impediments. To learn more about Bubba, scroll down.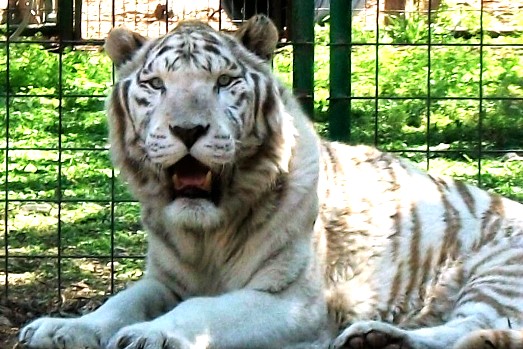 This video clip was taken at the Wild Animal Orphanage, San Antonio, TX on November 24, 2008. Bubba arrived at the WAO in April 2005 along with several other animals to include 8 servals (to which there is only one left at the facility). The WAO sent out newsletter appeals in 2005-06 requesting funds so as to build Bubba a "specially designed, large natural area, with low shelter areas and large natural pool." (See newsletters for details) Needless to say, the cage was never built. His cage mate, Princess, disappeared in 2008 and is presumed dead. Bubba now lives alone.

Bubba was also promised a special diet and medication to treat any pain resulting from his degenerative joint disease in his hips. According to the WAO vet in 2006, Bubba should be able to live a near normal lifespan. (see tiger medical report) It's hard to believe that the tiger in the video is only about 8 years old!

It is our understanding Bubba is now under veterinarian care and we hope and pray he recovers fully. In the meantime, Bubba is still waiting for his promised new enclosure. So the question remains, when will the WAO keep its promises to the Bubba?
NEWS! It has been reported Bubba finally has some hay in his shelter box.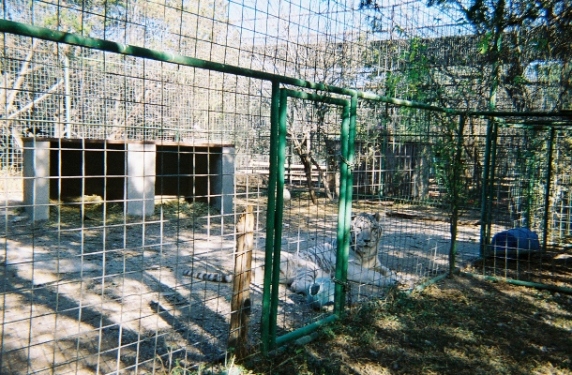 Back to main WAO page
www.REXANO.org